Agriculture Family Loan Facility
Grow As A Family 
Farming as a family. The FDB understands. If you have been farming for 10 years or more without a formal lease, FDB has an innovative solution for you.
As Farmers, you are contributors to the Nation's agriculture production target and agriculture development. The absence of a lease can sometimes get in the way of much needed finance. Finance that can grow your family
farming business.
The Fiji Development Bank's "Agriculture Family Loan" Facility, breaks the barrier to accessing finance.
It is an innovative solution that is positioned to meet your needs.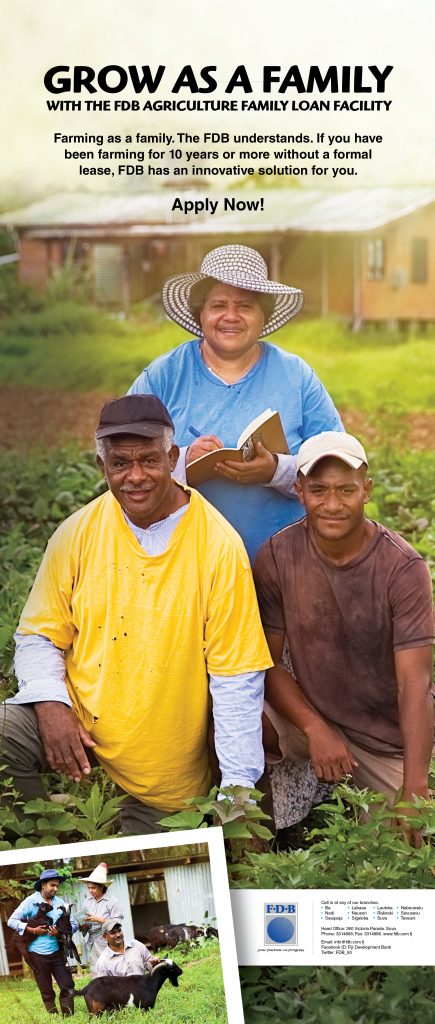 UNIQUENESS OF THIS PRODUCT
If you have a viable family farming business on family land, mataqali or other land usage arrangement with consent of the owner of the land, then this product is tailor made for you.
But: You and your family must be involved in growing your family farming business.
CHARACTERISTICS OF TARGET CUSTOMERS
Farmers with the following characteristics are targeted:
Mode of farming – Subsistence Farmer, Semi commercial and Commercial Farmers;
Type of Farmer – Farmers producing crops or non-cane Farmers, livestock, or crop/ livestock (multi-crop) and that are covered under bilateral quarantine agreement such as eggplant, okra, pawpaw, chillies, breadfruit, rice, taro, cassava, fruits, vegetables, kava, organic products, and livestock;
Experience – Farmers with 10 years and over farming experience;
Tenure – Family Land, Mataqali Land or other land usage arrangement with no lease but an agreement in place;
Market Access – Farmer with an established market (signed contract).
LOAN PURPOSE
To obtain financing for:
• Land development;
• Farm house (preferred: climate resilient);
• Infrastructure such as farm inroads, water supply and irrigation, renewable energy etc.
ELIGIBILITY
Farmers with no formal lease throughout Fiji.
• 10 years of farming experience.
• Farmers residing on the same farm land for the last 10 years.
• Have an established market.
• MUST have immediate family participation.
• Preference given to: potential to export or producing climate resilient or organic crops.
"Breaking Barriers to Agriculture Finance"
---
EXCLUSION
• Absentee Farmers.
• New Farmers (< 10 years experience).
BENEFITS OF CHOOSING FDB
Focus is on breaking the barrier to Agriculture
Finance targeted to provide:
• Financing access to those without formal lease;
• Easy access to funding;
• Opportunity to increase production and income;
• Encourage transition to semi-commercial or commercial farming;
• Financial literacy training for the Farmers;
• Access to secure markets;
• Improve livelihoods for rural and remote dwellers;
• Promotion of economic and social growth;
• Opportunity for Farmers to live their dreams;
• Support the National Development Plan and the Sustainable Development Goals.
LOAN FEATURES
• Loan term designed to suit project cycle.
• Subsidies available for some loan purpose.
• Comparable interest rates.
* Other conditions may apply.
HOW TO APPLY
Visit or call any FDB Branch nearest to you and speak to one of our Relationship and Sales Officers. You can also go to our website or send us a message on Facebook or email us.
WHERE TO APPLY
Our Branches are located in: Suva, Nausori, Sigatoka, Nadi, Lautoka, Ba, Rakiraki, Nabouwalu, Savusavu, Seaqaqa, Labasa and Taveuni.
CONTACT US
Head Office:
Fiji Development Bank
360 Victoria Parade
Suva, Fiji.
Phone: 331 4866
Fax: 331 4886
Email: info@fdb.com.fj
Facebook ID: Fiji Development Bank
Twitter: FDB_50
Banking Hours:
Monday to Thursday: 8am to 4pm
Friday: 8am to 3.30pm
Office Hours:
Monday to Thursday: 8am to 4.30pm
Friday: 8am to 4pm