About FDB's National SME Awards
In 2004, the Fiji Development Bank [FDB] inaugurated the Small Business Awards to encourage the growth of Small and Micro Enterprises by providing them a platform of competitive recognition.
Ten years later, the awards programme was expanded to include medium-sized enterprises of a turn over between $30,000 and $500,000 in gross sales per annum.
And today, some 12 years later, and in the Bank's 50th anniversary year, we are taking the awards to even greater heights – we have revamped the SME Awards to FDB's National SME Awards.
Apart from promoting and encouraging SME development through the recognition of successful and innovative entrepreneurs, the Award has been restructured to contribute in progressing global goals such as the Sustainable Development Goals, locally, and the Climate Change Framework as reflected in our new Strategic Plan 2018-2020.
The vision for FDB in 2020 is that of a development bank that is strongly positioned as one that drives for changes that promote inclusive, green and sustainable development and initiating and providing innovative financing solutions.
Our new strategic direction has conceived this shift in the principal objective of the SME Awards, gearing the platform towards promoting and strengthening SME growth that is inclusive and one that embraces sustainability than ever before.
Sponsors and Partners

The Bank has proudly secured sponsors and partners that share the common objective of promoting our SMEs to develop and excel in their sectors, add-value to the economy, be responsive to climate change and to progress global goals.
Each of our sponsors – our Development Ambassadors as we brand them, provide sponsorship at the value of the prize money for awards that they add-value to and vice-versa. Our partners were also selected based on their business practices and their commitment towards our shared common goals.
We express our  gratitude to six of our long standing partners: Quality Print, Sun Insurance, Vinod Patel, New India Assurance, Reserve Bank of Fiji and Fiji Television Ltd.
And, we welcome nine new partners: Fijian Holdings Ltd, Kookai, Fiji Sun, Mechanical Services Ltd, Ministry of Industry, Trade & Tourism, and the Ministry of Women, Children and Poverty Alleviation. Thank you for your sponsorship.
Our Creative Partner, Art & Soul, Event Partner, Orange Productions, and our Special Partner, J. Hunter Pearls – we appreciate your commitment and value your contribution.
Revamped 
The theme of this year's National SME Awards is Promoting SME Growth for Future Generations.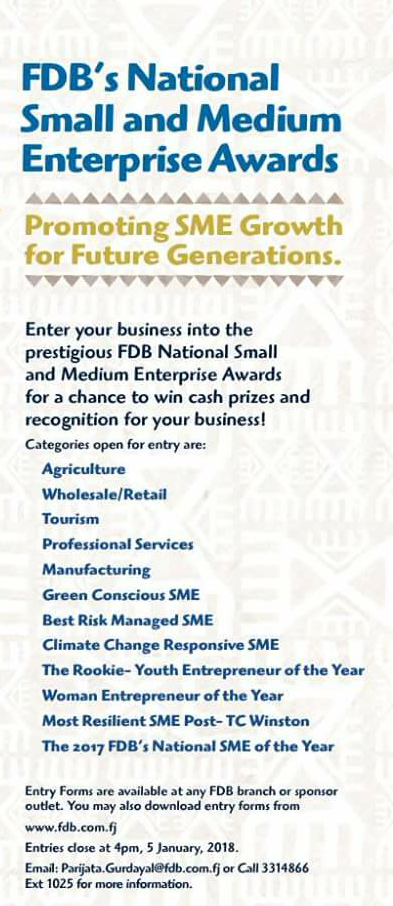 This awards platform is designed to encourage our SME entrepreneurs through recognition and to change mindsets to educate and advocate on promoting SMEs which are the drivers of our economy – indeed they create employment, ensure flow of service delivery and in doing so are bridging the gap between Fijians part of the formal financial sector and those not.
This year we have also branded the awards programme. The brand is representative of our connection with the ocean, the land and natural resources. The Shell represents our connection to the ocean in an era of rising sea level. The Green represents our connection to the natural land resources as well as Fiji's national direct access accreditation, through FDB, to the Green Climate Fund. The gold represents the sun's rays that serve to remind us of the unlimited strength that lies within us to grow and prosper as entrepreneurs, as partners and as a nation. It also represents our golden jubilee year and our collective commitment towards clean energy.
The total prize money has also increased this year from the previous $36,000.00 to a grand $61,000.00 with a two-fold increase in awards' prize money of $5,000.00 each with the National SME of the Year receiving $6,000.00 in cash.
Categories
The categories have been revamped as well. The core category has been re-branded as Developing SMEs- to recognize SMEs that excel in their sectors.
A value-adding SMEs category has been included to award SMEs that add value to the economy by being Green Conscious and incorporating risk management strategies.
For the first time,  we have an award that recognizes SMEs that are responsive to Climate Change by adopting mitigation and adaptation practices in their businesses.
Also for the first time, the Special Awards recognizes SMEs that have shown exceptional effort in progressing the Sustainable Development Goals locally. In this category, the Rookie Youth Entrepreneur award has been retained and enters its second year. The Women Entrepreneur of the Year and the Most Resilient SME Post-TC Winston are also a proud first for us!
Awards Night
H.E the President of the Republic of Fiji,  Major General (Ret'd) Jioji Konusi Konrote, will officiate as Chief Guest at the 2017 FDB's National SME Awards  on 9 February 2018.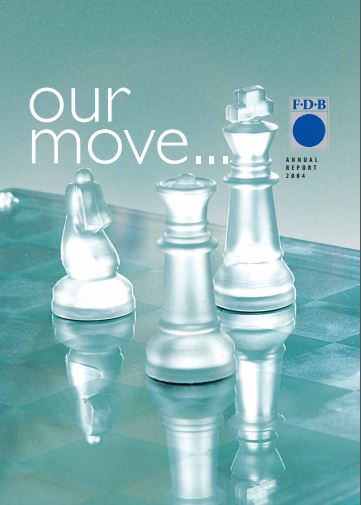 Contact us for more details by calling 3314866 or email Parijata.Gurdayal@fdb.com.fj