There is no single definition of a green business, but generally, it's a business whose core business model addresses an environmental or social issue – this is, it improves energy or resource efficiency, reduces greenhouse gas emissions, decreases waste or pollution, protects or restores ecosystems, promotes local culture, or supports communities. Source: GGGI – Guide to Green Entrepreneurship in Fiji
The concept "green business" is composed of two elements – "green" and "business". As all business, green business is about making money. But "green" means doing so while sustainably harnessing opportunities that nature holds, and without harming the environment. Source: Green Business Booklet (ILO)
ELIGIBILITY AND JUDGING CRITERIA:
To apply for any of the awards in this category, your business should first be able to demonstrate it meets the eligibility criteria.
Judging criteria includes evidence that demonstrates SME being "Green". A Green SME would be that business whose internal decisions/operations/processes are "green" (eco-friendly and sustainable production/ delivery). This includes assessing a business' output/ goods/services to be "green" including either the causes or/and impacts (mitigation/adaptation) of climate change.
Judging criteria includes evidence that demonstrates use or sales of eco-friendly materials, decisions and/or processes.
This extends to internal decisions/operations/ processes/or output/goods/services to promote or practice all or some of the following: minimum/proper waste & water management, efficient/clean energy, recycling, planting climate resilient crops, and climate friendly corporate social responsibility activities.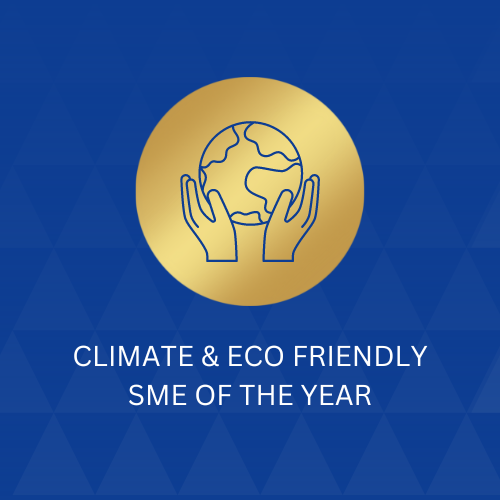 Types of SMEs that can apply for this award:
Examples of SMEs that can apply for this award includes: Source: GGGI – Guide to Green Entrepreneurship in Fiji

Green businesses that are working to restore and protect landscapes and soil health include those making organic compost to sell to farmers for use in place of chemical fertilisers, nursery and land management businesses, organic farms, and tourism-related businesses that are actively protecting land through their operations.
Green businesses that help to protect ecosystems and conserve biodiversity include timber companies that ensure forests are replanted faster than they are extracted, businesses that treat wastewater before returning it to the ecosystem, and tourism operators that educate others about conserving ecosystems and biodiversity.

Green businesses that can help address the causes of climate change include those that reduce greenhouse gas emissions and the use of fossil fuels (see below), and those that produce local products to replace things that are currently being imported (as importing goods requires the use of fossil fuels to transport them to Fiji).
Green businesses will also be needed to address the impacts of climate change, for example by making infrastructure less susceptible to flooding (e.g., by planting mangroves to protect shorelines) or by providing increased water security through new water management techniques and/or technology. Businesses could also include services to enhance the resilience of communities and businesses (e.g., with weather information services for the agriculture and tourism industries).
Green businesses that help reduce fossil fuel use include those supplying solar hot water and solar electricity systems, energy audit services that support businesses in saving energy, and providers of low-emission transport (e.g., bicycles, traditional sailing, electric cars and scooters, sail- and solar-assisted vessels). Transforming transport and energy systems will also require many associated services – such as solar technicians, battery recycling, electric scooter and car technicians, e-transport charging infrastructure, traditional sailing experts, and information and communication technology experts.
Green businesses can help with the waste issue by using reusable instead of disposable items (like cups and plates), composting their organic waste, finding ways to reduce the amount of waste they produce, and making sure they dispose of their waste properly. Some business are fully established around addressing the waste issue – they may make or sell alternatives to single-use plastics (such as plates or food containers made from leaves or paper, or biodegradable plastic bags). Recycling companies that support the disposal and reuse of waste products can also help reduce the amount of waste going to landfill.
The following are some questions to ask yourself to help make your business greener: visit GGGI – Guide to Green Entrepreneurship in Fiji