Address by FDB Board Chair Mr. Robert Lyon at the announcement of a new Financial Product for Fijian Investors:
Good morning to you all and thank you for joining us as we announce a new financial solution for Fijian investors this morning.
We are pleased to announce that Fiji Development Bank – FDB – ladies and gentlemen, the only Government-owned financial institution – the only national Development Bank in Fiji is expanding and diversifying its portfolio to be more responsive to the changing needs of Fijians.
The 50-year-old development Bank has revamped one of its products to a more formal and attractive tailor-made financial solution targeting corporate and larger individual customers.
The low risk investment also provides an opportunity to contribute to the growth of the Fijian economy.
When you choose the Fiji Development Bank, you partner with the Bank that provides financing that plays a pivot role in developing the Fijian economy and in leading to the enhancement of the quality of life for all Fijians.
I am proud to announce that FDB's Yaubula Term Deposit is offering customers a secure, fixed investment opportunity with attractive returns.
FDB is initially offering interest rates ranging from 3.70% to 4.50% for terms from 12 to 60 months, and are negotiable to accommodate customers investing more than $100,000.
Negotiated interest rates are also available for terms between 6 and 11 months. FDB is not placing a maximum on your investment and you can invest with a minimum deposit of $50,000.
Investors have the option of choosing from either fully withdrawing their nurtured principal and interest at maturity, withdrawing only interest and re-investing the principal or re-investing both the principal and the interest earned.
So why choose FDB for your term deposit?
FDB has proven itself as a strong and reliable financial institution over its 50 year history;
Your investments will be secure.
The Bank is an internationally trusted and acknowledged partner of large inter-governmental and regional bodies such as the Association of Development Financing Institutions in Asia and the Pacific (ADFIAP), and the Green Climate Fund (GCF), the international climate fund established by the United Nations.
Other than delivering attractive returns and terms and conditions to investors, term deposits will be utilized as an alternative source of capital to back financial solutions for its customers.  In doing so, it further underlines its mission and vision to assist in the economic development of Fiji.
It should be noted that for existing lending customers of the Bank, term deposits can be used as collateral to support the security position of their accounts.
Of course, there are no hidden fees and charges involved.
Before I conclude, allow me to bring to your attention the branding story behind this product.
Yaubula is an authentic I-taukei refere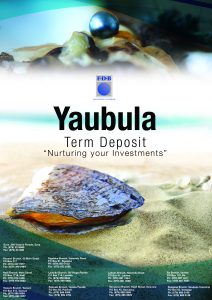 nce to the unique Fijian natural resources.
Investment in FDB's Yaubula Term Deposit is an excellent opportunity to collaborate with like-minded businesses as, collectively; we ensure sustainability of our businesses, natural resources and our economy.
The story that FDB's Yaubula Term Deposit tells is similar to how an oyster starts with something quite small, protects itself and labours in producing something quite valuable in the pearl.  The pearl is one of nature's most exquisite surprises out of which emerges a highly valuable commodity.
Similarly, we hope the FDB Yaubula Term Deposit is a way for the Bank to nurture the investments of customers so they grow over time and, in doing so, assist in sustaining the businesses of our customers.  It is also a means by which the Bank will protect its ability to deliver development-financing solutions for customers and grow the Fijian economy.
As I conclude, I would like to congratulate our Yaubula Term Deposit customers to be, for partnering with the Fiji Development Bank in progressing the interests of Fijian People in making responsible decisions about developing our pristine natural resources and advocating for a sustainable economic future for all.
FDB's Yaubula Term Deposit Facility is ready to nurture your investments.
Thank you.
-ENDS-