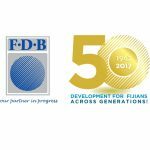 Fiji Development Bank
News Release
Rehabilitation Financing for FDB Customers Affected by TC Josie in the Western and Northern Divisions
To assist customers affected by the flooding caused by Tropical Cyclone Josie in the Western and Northern divisions, the Fiji Development Bank [FDB] will ease repayment terms and assist with recovery from loss through rehabilitation financing.
Chief Executive Officer, Mark Clough said that the relief assistance will be provided to affected customers through the options of repayment moratoriums, interest rate concessions and rehabilitation financing to help rebuild affected farms and businesses.
"The rehabilitation financing will be provided by FDB through the Reserve Bank of Fiji's National Disaster Rehabilitation Facility (NDRF) without any upfront or application fee charged by FDB. Further loans from FDB at a concessional rate of 5% on separate accounts is also an option under this Facility," said Clough.
The NDRF will be facilitated following damage assessment reports on a case by case basis, he said.
All existing farmers and businesses that have suffered damage to crops, farm machinery, stock, property and other assets during the floods caused by TC Josie in April 2018 are eligible to seek assistance from FDB's rehabilitation financing scheme for replacement of damaged inventory, restoration and repair of cyclone damage to assets, farm houses, business premises and livestock as well as access to working capital due to loss of sales.
Rehabilitation Financing through RBF's National Disaster Rehabilitation Facility will support:
Repair or Replacement of damaged inventory;
Loss of Sales (including working capital);
Repair or Replacement of cyclone damaged machinery, plant and equipment;
Restoration of cyclone affected farm houses, business premises including resorts and hotels, and
Replacement of business vehicles.
He said the assistance is intended to help the Bank's existing businesses and farming customers recover from the damage sustained from the flooding caused by TC Josie and customers whose source of repayment has been affected by the devastating flooding.
Affected customers are to contact their account manager at the nearest Branch or our Customer Service representative in Suva on 9103470 or 3314866 and leave their contact details, which we will direct for attention at the earliest opportunity. Customers can also message their details to the Bank's Official Facebook Page.
"The Bank extends its condolences to families affected and those who have lost loved ones," he said.
Clough said the Bank remains committed to meeting the changing needs of its customers and will continue to assess each customer's request on a case by case basis to determine the necessary assistance that may be required.
The relief assistance policy is effective immediately and will be available until 30 June 2018.
– ENDS –
Date: 6 April 2018
For media enquiries, please contact:                                                                                                             
Media & Community Relations Officer, Parijata Gurdayal
E: Parijata.Gurdayal@fdb.com.fj
FDB News Release_01_18_Rehabilitation Financing for FDB Customers Affected by TC Josie in the Western and Northern Divisions_060418