News Release- FDB Revitalizes Beef Industry
Five of the twenty-five Tilivalevu cattle farmers financed by the Fiji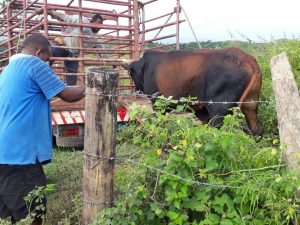 Development Bank [FDB], to the total value of $0.62m in 2015, supplied their first load of high grade cattle to the Fiji Meat Industry Board (FMIB) last month.
In a strategic move to revitalize Fiji's once most vibrant and striving industry, the FDB had signed a historical Memorandum of Understanding (MoU) with 25 farmers from the province of Nadroga and stakeholders under the Tilivalevu Beef Scheme (Scheme) in 2014.
The Scheme was initiated to encourage a self-sufficient industry for higher grade beef which had been predominantly imported while the industry was comfortably self-sufficient in lower grade beef production.
The MoU was a cementing ambitious step towards financing a scheme that would contribute to community cohesion and sustainable development of the beef production industry in Nadroga.
Acting Chief Executive Officer, Mr. Nafitalai Cakacaka, said the Bank is proud of this achievement as it has directly translated into empowerment of these villagers not only economically but also socially.
"They have been enabled to sustainably turn their natural resources into a source of income through financing by FDB and they must be commended for the high grading of the meat cuts," he said.
"Realism dictates that we must adopt sustainable practices in our resource development and FDB is strongly committed to supporting this community initiative that is geared towards achieving long term income generation for the farmers of the Tilivalevu Beef Scheme," he said.
He said that despite incomplete cattle yard and poor farm access, these farmers have managed to send their first load of cattle to FMIB.
"The other 20 farmers are preparing to supply their loads of cattle

to FMIB and FDB staff is also on the ground to assist these farmers," he said.
Mr Cakacaka said that the loans were granted in 2014 and fund disbursement started in 2015 following a thorough stakeholder consultation and engagement with the villagers and respective institutions.
"The MoU has strengthened FDB's engagement with various stakeholders and such partnerships progressively ripple down to our clients," he said.
He said the inclusion of the multiple stakeholders has seen numerous social and infrastructural developments such as development of the roads, provision of farming implements, clearing of land, timely processing of leases, assistance to farmers' wives who manage alternative livelihood projects and the purchase of the cattle herd.
The MoU was signed between FDB and stakeholders, including the I-Taukei Land Trust Board [TLTB], Fiji Roads Authority, Nadroga/Navosa Provincial Administration, Department of Agriculture, Department of Energy, Department of Cooperatives, Department of Forestry, FMIB, Agro-Marketing, and Ministry of Fisheries.
FDB had begun consultations with the Sigatoka farmers in early 2012 on the best agricultural commodities for income generation. Discussions led to cattle farming as a viable option and the Bank has since worked with the Ministry of Agriculture and the TLTB to restart beef farming in the Nadroga province.
-ENDS-