The Fiji Development Bank (FDB) in collaboration with Visa today launched a Digital Financial Literacy Program, which is accessible to everyone through FDB's website.
While officiating at the launch, Chief Guest Deputy Prime Minister and Minister for Finance, Strategic Planning, National Development and Statistics, Hon. Professor Biman Prasad commended the Bank for reaching out to the wider community through digital means.
Hon. Professor Prasad highlighted that financial literacy is critical to the success of Small and Medium Enterprises (SMEs).
"Statistics around the world are quite big in terms of how many small and medium enterprises eventually succeed and research also shows that those who have access to financial literacy training and programs invariably do better than those who don't," he said.
"I am very pleased that the Bank is launching the financial literacy program for our people, jointly with Visa. I want to express my gratitude, on behalf of the government and the Bank, to Visa for their generous partnership in this initiative."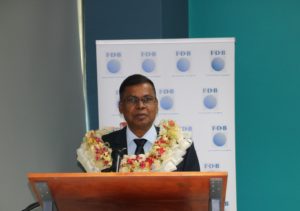 "We are particularly pleased that the Bank is putting emphasis on SMEs and this financial literacy program is going to go a long way in enhancing the ability of our SMEs to upscale their operations and become real players in our economy."
The Deputy Prime Minister also applauded the Bank for remaining committed to its mandate.
"I now understand that there are about 10,000 customers and the majority of them are in the SMEs and agriculture sector. In some sense, the mandate of the Bank has remained on track and its contribution to Fiji's economic development, particularly in the agriculture sector is well-known."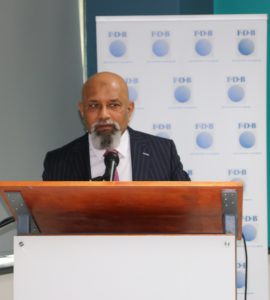 FDB Chief Executive Officer, Mr. Saud Minam explained that FDB's Digital Financial Literacy Program can be accessed by anyone with internet connectivity.
"It is not limited to our customers only. Anyone from around the country can visit FDB's website www.fdb.com.fj and learn the basics of business finance," said the CEO.
"Looking back at the types of facilities that we have launched recently, we felt that many of our customers have the ability to take their businesses to the next level if they are provided with some guidance on managing their finances. Hence, we collaborated with Visa to offer this Program."
Mr. Minam added that the Bank is working on new and exciting projects which will be announced in the coming months.