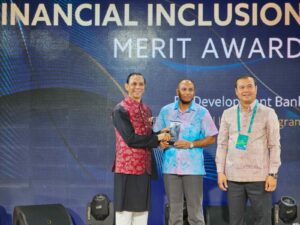 For the second consecutive year, the Fiji Development Bank (FDB) has scooped a Merit Award at the Association of Development Financing Institutions in Asia and the Pacific (ADFIAP) Awards.
The recognition award was presented during the Awards Night at the 46th ADFIAP Annual Meetings in Almaty, Kazakhstan earlier this month.
The prestigious award has been conferred to the development bank under the Financial Inclusion category for FDB's Digital Financial Literacy Program. The award recognizes FDB's commitment towards inclusion through its Digital Financial Literacy Program, which aims to educate and empower Fijians with the necessary skills and knowledge to manage their finances effectively. The Program has reached out to thousands of Fijians across the country, providing them with access to financial tools and resources that help them achieve their financial goals.
At the 2022 ADFIAP Awards, the Bank received a Merit Award under the Category of Outstanding Development Project, Local Economic Development for the 'COVID-19 Recovery Credit Guarantee Scheme.'
ADFIAP is the focal point of all development banks and other financial institutions engaged in the financing of development in the Asia-Pacific region. Its mission is to advance sustainable development through its members. Founded in 1976, ADFIAP has currently 90 member institutions in 38 countries.
The ADFIAP Awards is an annual event that recognizes the outstanding achievements of development financing institutions in the Asia-Pacific region. The awards are based on a rigorous evaluation process that assesses the institutions' performance in categories, including financial inclusion, sustainable development, and innovation.
FDB CEO Mr Saud Minam expressed his gratitude towards the ADFIAP for recognizing the Bank's efforts in promoting financial literacy in Fiji.
He also acknowledged the contributions of the Bank's staff and program collaboration partner Visa in making the Digital Financial Literacy Program a success.
"Winning this award for the second year in a row is a testament to the hard work and dedication of our team at FDB, as well as the support of our partners and stakeholders. We are committed to promoting financial literacy in Fiji and will continue to work towards empowering Fijians with the necessary tools and resources to manage their finances effectively," said Mr Minam.
Background on FDB's Digital Financial Literacy Program:
FDB collaborated with Visa International to offer a Digital Financial Literacy Program for all Fijians. The Program was officially launched in January last year through the FDB website and is accessible to all for free. FDB is the only Financial Institution in the Pacific to partner with Visa International to offer this Program digitally.