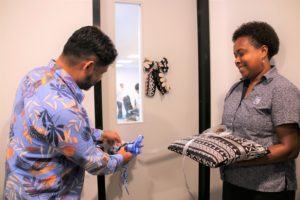 The Fiji Development Bank (FDB) opened its doors to its new Branch in Lautoka yesterday afternoon, intending to provide clients with a new level of convenience and experience with its expanding lending portfolio, easy loan application processes and friendly services.
The new Branch is located at the FDB building second floor in Vitogo Parade, Lautoka.
While officiating at the opening ceremony, Attorney-General and Minister for Economy, Civil Service, Communications, Housing and Community Development, Honourable Mr. Aiyaz Sayed-Khaiyum commended FDB for moving at an exponential rate in terms of improving its customer service.
Hon Sayed-Khaiyum highlighted that in a short period FDB has become part and parcel of the digital growth that is taking place not just globally but in Fiji as well.
"It is important to understand the role that FDB plays at the macro-level. FDB is the only development bank in Fiji and the only development bank that does get, on a continued basis, the government guarantees and it is critically important for them to be able to on-lend to those markets because they don't take deposits."
"FDB is the only bank with a statutory mandate in respect of contributing to the development of various sectors within our economy – the key, off-course, is agriculture and other areas. In fact, if you look at the history of FDB, there are some success stories where certain lucent businesses that grew, who in fact, only grew because FDB assisted them at some stage," he added.
FDB Chief Executive Officer, Mr. Saud Minam said this was a significant accomplishment for FDB as the Bank is aiming to improve the infrastructure of all its Branches across the country and the Lautoka Branch is the first to get the uplift.
According to Mr. Minam, the Lautoka Branch has been designed with a new concept that will be replicated in other Branches in phases.
"This Branch is equipped with a free Wi-Fi connection for customers. We also have a reflection/nursing room for our staff. These facilities are critical to better serve our customers as well as keeping in mind the welfare of our staff," said the CEO.
"One of the most important features of this Branch is the easy access to our services for the physically impaired customers. There is an intercom at the entrance of the Branch and customers can speak to our staff through that technology. Our staff will then attend to the customers in person."
Together with improving the infrastructure, Mr. Minam emphasized that the Bank has been designing its financial products in line with the current market conditions and economic situations.
"One such example is our newest product – the SME Sustainability Package which is specifically designed keeping in mind the importance of assisting our SMEs who will play an important role in our economic recovery post-pandemic. We had initially pegged the loan of up to $50,000 under this facility, however, I am happy to announce today that we are increasing this maximum loan amount to $100,000 under the SME Sustainability Package."
Mr. Minam added that the Bank is working on new financial products for the agriculture sector which will be launched soon.