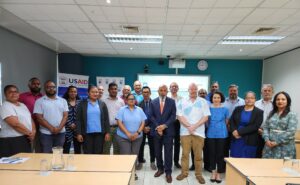 The Fiji Development Bank (FDB) conducted a Private Sector Consultation on a Transformational Approach Towards Climate Resiliency yesterday, with support from USAID Climate Ready. This milestone initiative aims to bridge sectoral gaps and identify the specific needs of private businesses in meeting climate resiliency requirements.
The consultation focused on engaging with the private sector to contribute towards Fiji's goal of achieving net-zero emissions. In-depth discussions were held on topics such as solarization of businesses and its long-term impacts on operations, waste policy & the Regional Waste programme, decarbonisation in the transport sector – a practical example, and funding facilities available with FDB and the Green Climate Fund.
FDB CEO, Mr Saud Minam highlighted the Bank's intention to develop a proposal in collaboration with the private sector for submission to the Green Climate Fund (GCF) for consideration.
CEO Minam said this consultation provides FDB with the platform to get ideas from various business sectors around the country on the appetite for greening business operations and how these ideas can be aggregated up by sector and developed into a proposal.
"This proposal aims to secure funding to support projects that significantly reduce carbon emissions and promote adaptation activities, contributing to Fiji's Nationally Determined Contributions."
Mr Minam thanked the Fiji Commerce & Employers Federation, the Division of Climate Change in the Prime Minister's Office, the Private Financing Advisory Network (PFAN) and the Secretariat of the Pacific Regional Environment Programme (SPREP) for their valuable participation in this significant consultation.
USAID Deputy Development Advisor, Mr Patrick Bowers lauded the ongoing partnership with FDB, expressing interest in continuing their collaboration to identify a project concept with the private sector.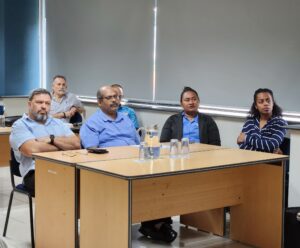 "This process is quite a lengthy one and the concept idea will need to be placed in the FDB plan and then the Fiji country programme before it can be submitted to the Green Climate Fund as a concept. USAID is interested to learn more about this process of accessing climate finance from the climate finance organisations as the U.S. is currently one of the co-chairs of the Green Climate Fund Board and it is always good to provide them with practical experiences of what countries have to do to access this finance."
"I look forward to seeing the final result of a Green Climate Fund-funded project being implemented here in Fiji by the FDB with the private sector as beneficiaries," Mr Bowers added.