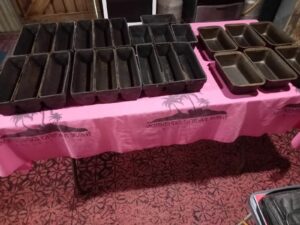 In today's world, microbusinesses are playing a huge role in providing livelihoods to individuals and communities alike. One such example is Ms Alumita Tuila, a 57-year-old resident of Galoa Village in Tavuki, Kadavu, and entrepreneur for Goodness Investment.
Tuila started her business venture with a canteen in 2009 and with her husband's assistance two years ago, she branched out into a bakery business.
Galoa Village is located off the Vunisea main Kadavu Island and can only be accessed by boat, making her bakery essential to the livelihoods and development of her community.
"We learnt the baking skills at our previous employment and when we went back to the village we knew where our heart was. We decided to start small with a canteen and then slowly commenced the bakery business," said Ms Tuila.
Tuila's bakery started once a week, operating only on Thursdays. However, due to high demand, she now operates three days, from Thursday to Saturday. Bakery products around these villages are highly sought after due to the lack of nearby bakeries.
To keep up with the growing demand, she applied for the Integrated Human Resource Development Programme (IHRDP) Grant with the Ministry of Trade, Co-operatives and Small and Medium Enterprises and Communications. IHRDP is designed for micro, small and medium enterprises in peri-urban, rural and remote areas. The programme echoes the public-private partnership in implementing projects whereby one-third contribution is from the applicant and two-contribution from the Ministry.
Her application was successful and a total project cost of $15,000 was approved with $10,000 to be provided by the Ministry and a contribution of $5,000 to be provided by the applicant.
Tuila then reached out to the Fiji Development Bank (FDB) to seek a one-third contribution and was delighted to learn about FDB Loan for Women Entrepreneurs facility.
"It was so easy to apply for the loan under this facility because everything was online. I am grateful to the Bank for creating opportunities for us women to get funds to expand our business, especially for us in the maritime areas."
"I will use the funding from the Ministry and FDB to purchase the much-needed bakery equipment, including an 18 kg Dough Mixer, Slicer, S/Teel working bench, six-layer bread rack, kitchen scale, containers, oven and a baking steel."
Tuila has been kneading the bread dough without any equipment until now and says the equipment will be of great help to her.
"Although it was tiring, the manual labour to produce the loaves of bread will become a part of good memory for us after we get these types of equipment."
Tuila's story is a reminder of the determination and resilience that it takes to start and maintain a small business.
"I want to encourage other women to take advantage of such facilities being provided by the Government and the Fiji Development Bank, especially when everything is easily accessible online."
She expressed her gratitude towards the Ministry of Trade, Co-operatives, Small and Medium Enterprises and Communication and FDB for their assistance in expanding her bakery business. She hopes that her business will continue to thrive and contribute to the economic growth of her community.
Deputy Prime Minister and Minister for Trade, Co-operatives and Small and Medium Enterprise and Communication Hon Manoa Kamikamica commented, "Our Ministry works very closely with FDB in many of our Programmes to assist our MSMEs. We would like to foster sustainable entrepreneurial growth through such Public Private Partnerships and Ms. Alumita Tuila's Bakery Project is a great example. This is not the first partnership between the Ministry and FDB and would definitely not be the last."
FDB CEO Mr Saud Minam commented, "Such success stories give us the motivation to do more for our communities across Fiji – be it the main Islands or the maritime islands. FDB is here to serve you – digitally.