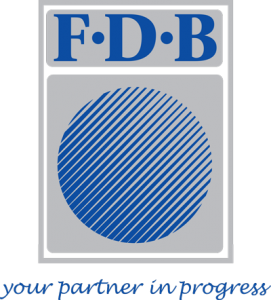 News Release
Strengthening Access to Financing for Agro-SMEs
Agriculture-based Small and Medium Enterprises [SMEs] that lacked access to finance in expanding their business to work with small-scale farmers, particularly to the more rural areas, can now invest through a matching grant and loan package that will meet up to 75% of the total investment cost.
The Fiji Development Bank [FDB] and the Ministry of Agriculture, through its Fiji Agricultural Partnerships Projects [FAPP] funded by the International Fund for Agricultural Development [IFAD], today signed a Memorandum of Understanding [MoU] on a matching grant support scheme for SMEs to promote market-oriented agricultural production by farmers in remote rural areas.
With IFAD providing an incentive grant that will meet 25% of the total investment cost, FDB is the only bank that will provide a financial solution constituting a loan sum meeting half of the total cost of the planned investment. The grant amount equals the borrower's equity contribution for the expansion project.
Chief Executive Officer, Mr. Mark Clough, said that the initiative would strengthen the linkage between SMEs and remote rural highland agricultural producers.
"FDB recognizes the constraints faced by SMEs in the agriculture sector in accessing finance from formal institutions to grow and diversify their operations and how that adds to the hardships faced by small-scale producers in rural areas to sell their produce to a wider market," said Mr. Clough.
"We are proud to partner with IFAD and the Ministry in this incentive and through this partnership, FDB will collaborate with FAPP to create an enabling environment where business in the agricultural sector can flourish – for the benefit of producers, consumers, and the economy at large", he said.
Mr. Clough said that FDB was responsive to FAPP's proposal to collaborate as both share the common value of improving the livelihoods of people particularly those in rural and remote areas.
He said the scheme provides incentives to existing agribusiness enterprises that are prepared to invest in expanding business with small-scale farmers.
"They can be input suppliers, exporters, processors, suppliers to the tourism industry or supermarkets or traders supplying or selling in domestic urban markets," said Mr. Clough.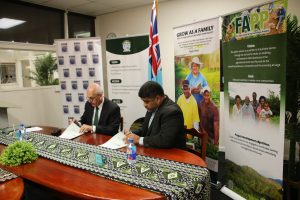 "The matching grant scheme is an opportunity to promote agricultural sector growth considering that there is both a growing domestic consumer demand in Fiji for local agricultural outputs and a need to improve the well-being of those who produce them," he said.
"With access to grant finance of up to $50,000 and loan funding of up to $100,000, SMEs can tap into their unrealized potential for growth and small-scale producers can engaged in sustainable farming through a strengthened linkage between SMEs and rural agricultural producers, where each can confidently seek new markets as well," said Mr. Clough.
He said that possible uses of the investment capital raised might include a vehicle to enable the SME to access remote farming areas, other infrastructure to promote improved market-oriented production, working capital or inputs support for a contract farming venture.
The Ministry will be advertising to SMEs to apply for the scheme in due course.
-Ends-
Date: 8 April 2019
For media enquiries, please contact:                                                                                                                     
Media & Community Relations Officer, Parijata Gurdayal