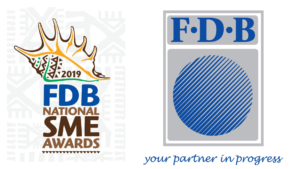 Fiji Development Bank [FDB] Chief Executive Officer, Mr. Mark Clough,
Address at the launch of the 2019 FDB's National Small and Medium Enterprise Awards
11.00 am 18 October 2019 FDB Head Office
Bula Vinaka,
To our award sponsors and partners – our Development Ambassadors;
Members of the media, and
FDB Management & staff.
I am delighted to welcome you all, on behalf of the Fiji Development Bank [FDB] Board and Management team, to the launch of the FDB's 2019 National Small and Medium Enterprise Awards.
Thank you to our sponsors and partners for honoring us with your company at the launch of FDB's signature event. We welcome our new sponsor, the Fiji National University, in particular.
We are grateful to you all for your valuable support.
Ladies and gentlemen,
Fiji's only Small & Medium Enterprise Awards, the FDB's National SME Awards, in its 15 years of existence, has offered the opportunity to SMEs to be recognized for being innovative and for approaching growth in a sustainable manner.
I am sure you would agree with the very fitting theme of the awards being "Recognizing innovative and sustainable SMEs".
I am proud to share with you that the awards have advanced to yet another level this year.
The Awards that began in 2004 were first developed to recognize budding entrepreneurs with a brilliant business idea that needed some financial assistance.
Ten years later, the awards were revamped to recognize entrepreneurs who had progressed to becoming a medium enterprise.
Then two years ago, we re-launched the awards as a national awards platform, which recognized SMEs that contributed towards progressing the national development agenda and the Sustainable Development Goals, including our Climate Change Action Framework.
We collaborated with sponsors and partners who shared our values and delivered the biggest SME awards event ever.
The FDB's National SME Awards have since evolved to today the recognize SMEs that not only practice, but also promote and empower their peers to be innovative, inclusive, green, responsive and sustainable.
Following feedback from our stakeholders and the judging panel, the Bank has re-organized the awards to make them more relevant for our applicants and our Development Ambassadors.
This year, 11 innovative and empowering entrepreneurs of sustainable SMEs will be sharing in more than $50,000 in prize money.
From this year, the awards have reached the stage where it can recognize those SMEs that have been in operation for five years or more.
At this age, most SMEs would have navigated the challenges of startup and set themselves on their way to sustainability for the long term.
Ladies and gentlemen, the categories and awards are as follows:
Category 1: Developing SMEs
There are five (5) awards in this category.
Agriculture
– Sponsored By Reserve Bank of Fiji
Wholesale and Retail
– Sponsored By Quality Print PTE Limited
Tourism
– Sponsored By Fiji Sun
Professional & Business Services
– Sponsored By Merchant Finance Ltd & FDB
Manufacturing
– Sponsored By Fijian Made
Category 2: Impact Awareness SMEs
There are two (2) awards in this category, one that looks at environmental and climate impacts and the other at risk impacts.
Green SME of the Year
– Sponsored By New India Assurance
I must mention here that FDB is the only institution in the country that recognizes SMEs that are responsive to the impacts of climate change. Our award-winning Bank is also the first development bank in the South Pacific to be accredited to the Green Climate Fund, the world's largest climate fund, as a Direct (National) Access Entity. Accordingly, this award is close to our heart.
This award promotes environmental awareness, by encouraging SMEs to go green in their business operations and contribute towards mitigation strategies to prevent and address environmental degradation, including that caused by climate change.
Risk Conscious SME of the Year
– Sponsored By Sun Insurance
We have always, proudly, promoted SMEs to be diligent in their risk monitoring and management policies and mechanisms.
Category 3: Empowerment Awards
There are three (3) awards in this category.
Rookie Youth Entrepreneur of the Year
– Sponsored By Fiji National University
Under the Empowerment Awards category, we bring you the Rookie Youth Entrepreneur of the Year award. This is a new award, sponsored by our new sponsor, Fiji National University. Welcome onboard, once again, FNU. We are pleased to have your brand associated with this award.
Youth Entrepreneur of the Year
– Sponsored By Mechanical Services Pte Limited
Recognizing youths that are innovative is one aspect but this award also recognizes youths that carry the principal responsibility for the operations and recent performance of more mature businesses.
In addition, similar to the sponsors of this award, Mechanical Services Limited, the winning entrepreneur must be able to demonstrate leadership traits and skills, especially relating to sustainable practices that benefit the community and environment.
Woman Entrepreneur of the Year
– Sponsored By the Ministry Of Women, Children and Poverty Alleviation
This year, we have gone a step further and defined "woman entrepreneur" by stating her as "the woman entrepreneur who owns and operates or bears principal responsibility in majority ownership for operating the business and for the recent performance of the business".
The Bank and its Development Ambassadors are firm believers of genuine engagement and encouragement of women and youths in business.
Category 4: National SME of the Year
The FDB's 2019 National SME of the Year
– Sponsored By Fiji Development Bank
The panel of judges assess all shortlisted applicants for this award. The winning SME would be the one that best reflects the theme of the FDB's National SME Awards of Recognising Innovative and Sustainable SMEs.
To the award applicants,
The SME sector in Fiji captures about 60% of the Fijian workforce.
SME owners, we urge you to look out for our advertisements. In the last two years, more than 800 of your peers applied.  We hope you were one of them.
Last year, there were 532 entries and we want to double that this year.
We have produced posters, and radio and TV commercials for your information. Look out for these in our media partner platforms – Fiji Sun and Fiji TV!
Check out our Facebook Page for details.
We have branches across Fiji and our team are ready to assist you in completing application forms. We will be at roadshows, Talanoa Sessions, community visits, EXPOs and any  opportunity we get to visit our customers to talk about these awards.  We will be there in your community, so keep an eye out!!
Please read the eligibility and judging criteria brochure to determine which award suits your business and understand the requirements to submit quality entries.
Please visit www.fdb.com.fj/2019nationalsmeawards/ for examples of businesses that could apply for these awards.
Before I conclude and give the floor to our sponsors & partners to deliver their address, I take this opportunity to thank you all, and remind you that FDB's 2019 National SME Awards are proudly sponsored by:
Quality Print;
Sun Insurance;
Mechanical Services Ltd;
Fiji National University;
Reserve Bank of Fiji;
New India Assurance;
Merchant Finance;
Fijian Made;
Ministry of Women, Children and Poverty Alleviation;
Fiji Sun;
Fiji TV;
Art & Soul;
J Hunter Pearls, and
The Grand Pacific Hotel.
Let's now launch the FDB's 2019 National SME Awards –
Vinaka.
 Apply Today! Download the Entry