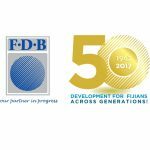 News Release 
Rehabilitation Assistance Booth for Ba Customers  
The Fiji Development Bank [FDB] will have a Rehabilitation Assistance booth opposite the Bus Stand at the Gujarati Grounds in Ba town on Saturday, 19 May 2018, to help customers whose farms and businesses were affected by Tropical Cyclone Josie and Keni access relief assistance.
FDB Chief Executive Officer, Mark Clough, said the Rehabilitation Assistance campaign is targeted to residents of Ba after post-disaster assessments revealed that the Bank's most severely affected customers reside in Ba.
"FDB aims to be more helpful to the affected customers by strategically placing an assistance booth in Ba town to allow customers to access the Bank's rehabilitation assistance while they are in town carrying out their usual Saturday business," said Mr. Clough.
Services Provided
He said the team at the Rehabilitation Assistance booth will be able to advise customers on-site on the likelihood of their eligibility to qualify for the assistance options which include repayment moratoriums, interest rate concessions and rehabilitation financing to help rebuild affected farms and businesses.
"Once we determine the likelihood of a customer's eligibility, we will coordinate site visitations to the affected farms and businesses," he said.
Mr. Clough said the Bank will continue to assess each customer's request on a case by case basis to determine the necessary assistance that may be required.
"Our team from Rakiraki, Lautoka and Ba branches will be in Ba town between 9am and 3pm and I urge affected customers as well as those wanting to start up a new business or are thinking of growing their existing one to have a chat with our experienced Relationship and Sales officers on how FDB can help them with their financing needs," said Mr. Clough.
"FDB has helped thousands of farmers and small and medium enterprises to start their businesses and grow into profitable enterprises for fifty years now. We have tailor-made solutions for each of our customers," he said.
He said FDB has been committed to driving investments in the Western Division.
"FDB has a strong development mandate to finance entrepreneurs who believe in establishing sustainable and innovative farms and businesses and that in the long-term would help in improving food security, contributing to poverty alleviation, creating employment opportunities, reducing import dependence and generating economic growth for all Fijians," said Mr. Clough.
FDB's rehabilitation assistance extends to all Fijians who are customers and whose farms and businesses were affected by Tropical Cyclone Keni in the Western and Northern divisions and in Kadavu and those affected by TC Josie in the Western and Northern divisions.
Contact Customer Service
Affected customers are to contact their account manager at their nearest Branch or our Customer Service representative in Suva during the weekdays on 9103470 or 3314866 and leave their contact details, which we will direct for attention at the earliest opportunity. Customers can also message their details to the Bank's Official Facebook Page.
The relief assistance policy is effective immediately and will be available until 30 June 2018.
– ENDS –
Date: 18 May 2018
For media enquiries, please contact:                                                                                                             
Media & Community Relations Officer, Parijata Gurdayal
E: Parijata.Gurdayal@fdb.com.fj
FDB News Release_03_18_Rehabilitation Assistance Booth for Ba Customers _160518 PDF