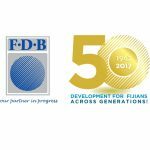 FIJI DEVELOPMENT BANK
INVITATION TO TENDER – FDB CORE BANKING TRANSFORMATION
Fiji Development Bank (FDB) is an autonomous statutory body which provides financing that contributes to the development of the Fijian economy leading to the enhancement of the quality of life for all Fijians. FDB recently celebrated its 50th anniversary and launched a new and challenging 3-year strategic plan.
The Bank continues to move from being a development catalyst and enabler for Fijians and the Fijian economy to becoming a transformation agent. This is reflected in the Bank recently attaining Green Climate Fund accreditation as a Direct (National) Access Entity.
One of the key strategic objectives of FDB is to explore and acquire the most appropriate information technology tools to assist in the effective, efficient and viable operations of FDB in delivering its products and services to its customers.
To this effect, FDB is looking to partner and to work closely with a Core Banking Software solution provider that has the following credentials:
Proven track record of successfully implementing and delivering core banking transformation solutions;
Must have sound accounting and financial qualification and knowledge to be able to communicate effectively with the FDB Finance Team in regards to General Ledger and subsidiary ledger integration/interfacing;
The solution provider must have in-depth experience in performing end to end systems integration comprising of IT strategy formulation;
Hands-on experience with business requirements gathering/analysis;
Excellent project management skills to ensure project or non-project related deliverables are completed in a timely fashion, within scope and within budget, and
Experience in systems design and development.
FDB invites sealed bids from reputable authorised Core Banking Solution providers for the supply, installation, implementation, support and maintenance of a complete core banking solution.
The bids, prepared in accordance with the instructions in the RFP document, must reach the office of the undersigned on or before Friday 29th June 2018 at 3:00pm (Fiji Local Time) and placed in the tender box provided at Level 2. Late submission will not be accepted.
"TENDER – FDB Core Banking Transformation Project"
The Chief Executive Officer Fiji Development Bank 360 Victoria Parade, Suva GPO Box 104 Suva, FIJI
Detailed RFP (Request for Proposal) documents including terms and conditions and evaluation criteria are available for interested bidders by registering your interest via email to: corebankingRFP@fdb.com.fj . For enquires, contact Manager ICT Mr. Onisimo Pasikali on +679 9907 640 / +679 331 4866 extension: 1103 or via email corebankingRFP@fdb.com.fj .
FDB reserves the right, without prejudice, to accept/reject or negotiate with the bidders without assigning any reasons thereof and will not provide any explanation related to shortlisting and selection and its decision will be final and binding and does not guarantee that bidders may be offered the project.
Bidders would be notified after 30 days from the close of the tender.
Download Invitation for Tender