Fiji Development Bank has ushered in a new era of customer service and inclusivity with the launch of an AI-based chatbot on its website. The Bank plans to further enhance the chatbot by enabling translations in both iTaukei and Hindi.
The successful development and launch of the Chatbot have been made possible through a partnership with the United Nations Capital Development Fund (UNCDF) and ITGalax.
While officiating the launch of the Chatbot, Assistant Minister for Finance, Hon Esrom Immanuel said today's launch lays important foundations toward revolutionizing customer service in the banking sector, consequently paving the way for a more efficient and digitized experience for all Fijians.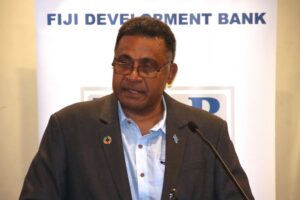 "At the heart of this initiative lies our shared commitment to economic growth, social empowerment and financial inclusivity," said Hon Minister.
"I applaud FDB in their commitment to continuously improve their services. This innovation again highlights FDB's ongoing commitment to exploring avenues that simplify banking processes and facilitate more Fijians having access to essential financial services."
"The Ministry is pleased to endorse the Chatbot solution as a tool empowering Fijian citizens, particularly agriculture, commerce, industry, tourism and housing sectors and MSMEs, who currently contribute to over 21 per cent of the country's GDP and have the potential to contribute even more with this innovative solution."
FDB CEO, Mr Saud Minam shared his enthusiasm for this significant milestone, stating, "At Fiji Development Bank, we have always been committed to enhancing the banking experience for our customers. The launch of our Chatbot represents a significant step towards providing convenient, accessible, and immediate support to our valued customers. I am pleased to also announce that the next stage of this project is having translations available in Hindi and iTaukei."
"This innovative Chatbot is also part of Fiji Development Bank's ongoing commitment to embrace digital transformation and ensure that customers have access to the latest technologies. It complements the Bank's existing range of online services and resources, providing an additional channel for customers to engage with the Bank."
Mr Minam also expressed his appreciation for the support from UNCDF, which played a crucial role in the successful launch of the Chatbot.
Funding and technical assistance provided by UNCDF helped catalyse the solution's development and prepare it for market deployment.
Regional Coordinator for Asia and the Pacific, UN Capital Development Fund (UNCDF), Ms Maria Pedromo commented, "The UN Capital Development Fund is delighted to witness the Fiji Development Bank Chat-Bot Solution, which leverages technology to enhance customer experience, emerge from the Pacific Islands FinTech Innovation Challenge that we organized last year. We are proud to have partnered with FDB and ITGalax Solutions on this initiative, and we believe that such advancements are crucial in driving financial inclusion and inclusive digital transformation in Fiji and the Pacific region."
Under the Pacific Digital Economy Programme, UNCDF aims to work with public and private stakeholders to build an ecosystem in the Pacific that enables digital financial services to reach and improve the lives of last-mile communities. The Programme is jointly implemented by UNCDF, the UN Development Programme (UNDP) and the UN Conference on Trade and Development (UNCTAD), with support from the European Union and the Government of Australia.
Director of ITGalax Solutions, Mr Vipin Narendran said "We are extremely excited to be partnering with FDB and UNCDF on this initiative. We realised quite early how AI is going to transform the way businesses and individuals operate. This led us to build AI-based use cases and models into our applications and our Chatbot is one such offering. We are happy to see FDB embrace this to automate their Customer Service operations. We also thank UNCDF for their continued support to de-risk new-age technology solutions and look forward to more such initiatives in the region."
To experience the Fiji Development Bank's Chatbot and explore its capabilities, visit the Bank's website at www.fdb.com.fj