In a significant stride towards fostering economic growth and sustainability in Fiji, the Fiji Development Bank (FDB) has extended a crucial financial boost to Essence Group (Fiji) Pte Limited. This vibrant enterprise, under the inspiring leadership of Ms Debra Ann Sadranu, is gearing up to expand its already influential business.
This strategic step entails the relocation of the company's Nama Fiji production line to Motorex Building on Nadi Back Road, aligning perfectly with their vision of a more sustainable and prosperous future.
FDB CEO, Mr Saud Minam commented that the Bank takes immense pride in supporting Essence Group Fiji's ambitious expansion plans. He said the company's dedication to empowering local communities and promoting sustainability resonates with FDB's core values.
"Essence Group (Fiji) is more than just a business success story; it's a testament to the resilience of the human spirit and the profound impact one individual can have on a community and an entire nation. The organization's firm commitment to uplifting local communities and promoting sustainable practices mirrors the values that Fiji Development Bank holds dear," said CEO Mr Minam.
Ms Sadranu's eyes well up with pride as she said, "Watching these women flourish, gain confidence and support their families through Essence Group Fiji has been the most rewarding part of my journey."
Recognizing the immense potential of Fiji's natural resources, particularly "Nama" or sea grapes, she embarked on creating her product line to reduce dependence on imported synthetic skincare. In 2014, Nama Fiji was born – an organic skincare brand proudly made in Fiji, aligning with the environmental commitment of the Blue Pacific framework through a partnership with Art Loves Earth.
Ms Sadranu emotionally shares, "Fiji has given me so much, and it's an honor to give back to this beautiful country and its incredible women. When I see these women from Somosomo Village harvesting Nama, I see not just business but lives changing, dreams coming true. These women are the heart and soul of our business. Supporting them is not only a business decision; it's a moral obligation."
Over the years as the company expanded, it ventured into international markets, forming partnerships with companies like Integra Solutions in the United States for US, UK and EU markets and collaborating with distributors in Hong Kong, Singapore, and New Zealand. Their skincare products, proudly bearing the Fiji brand, are making waves in these global markets.
Commenting on the notable success of Essence Group Fiji, the Deputy Prime Minister and Minister for Trade, Co-operatives, Small and Medium Enterprises, and Communications, Hon Manoa Kamikamica, emphasised that Essence Group Fiji resembles – resilience, innovation, and a profound commitment to the local community.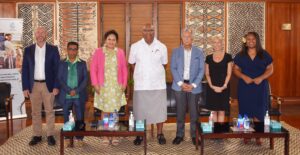 Hon Kamikamica commended Ms Sadranu's work in empowering Fijian women and supporting local communities through a fair and sustainable supply chain.
"Essence Group Fiji's impact goes the extra mile from the beauty industry, to economic empowerment, environmental sustainability, and community development — the company's partnerships and global reach are paving the way for Fijian products on the global stage, showcasing the talent and potential that thrives within Fiji, and our Ministry will continue collaborating with the Fiji Development Bank and such businesses to unlock access to international markets."